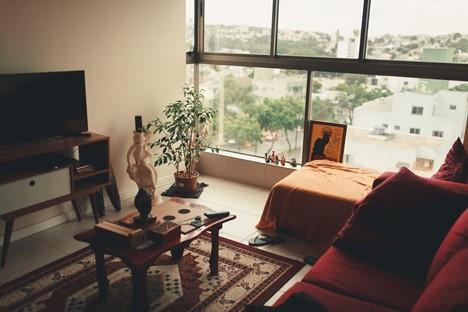 5 Simple Solutions to Keep Rug From Sliding
5 Simple Solutions to Keep Rug From Sliding
Sliding rugs can not only look untidy - they can be dangerous too! Use these 5 methods to keep your rug from sliding no matter what kind of flooring you have.
Did you know that 54% of falls experienced by seniors are associated with rugs? Specifically, the transition between hardwood floors and an unsecured area rug. 
You may have thought that an unsecured rug was an aesthetic matter, but if you can keep a rug from sliding, you can prevent falls and therefore lots of injuries! It's not just the elderly who can slip on rugs, if you stop a rug from sliding, you can stop everyone in your household from experiencing a rug-related fall. 
If you're looking for ways how to keep rugs from sliding, read on!
Rug Pads
A non-slip rug pad is a great way for how to stop a rug from sliding. It works on both hardwood floors and carpeting. 
Rug pads can be trimmed to the size of your area rug and keep the rug from wrinkling or slipping around. This prevents unsightly rug bulges and movement.
If you're looking for a new rug, you can order one with some Super Area Rugs discounts and then cut a rug pad down to match the size of the area rug.  
Carpet Tape
If you're looking for how to keep rugs from sliding on carpet, carpet tape is a great way to keep your area rug in place. It's a double-sided tape meant to adhere to carpet fibers. One side sticks to the rug, and the other side sticks to the carpet, keeping it in place.
Carpet tape is not recommended for hardwood floors or rugs with a rubber backing. Furthermore, you shouldn't use carpet tape on antique rugs so you don't risk pulling at the fibers. 
Silicone Caulking
You're probably familiar with the little rubber dots on the bottom of fuzzy socks that stop you from slipping. Those are actually made from silicone, and can also be how to keep an area rug from sliding. 
Silicone caulking can be bought in squeezable tubes or tubes that can go into a caulking gun. There's a clear formula and a colored formula, depending on your preference. Apply the silicone caulking in a grid pattern of dots or stripes, and let it dry before placing it on the floor or carpet.
Hot glue is another way how to keep a rug from sliding on hardwood floor. However, be aware that the temperature might melt the carpet fibers. Synthetic rugs are made of polypropylene, which melts at 200-300 degrees, while a hot glue gun gets to 250-400 degrees!
Felt Pads
Felt pads are a great way to keep a large rug from slipping around. However, they don't work for a small rug. They do add the most cushion to a rug and can prevent wear to the fibers. 
Hook and Loop Anchors
The brand name for these anchors is Velcro. These anchors are a perfect way how to keep carpet from sliding. Attach one side to the area rug, and the other to the carpet or floor below. 
Then you can join the two sides together, holding the area rug in place. 
Keep Rug From Sliding Today!
Now that you know the best ways to keep a rug from sliding, hopefully, you won't hesitate to get a new area rug and secure it.
Remember if you're looking for discounts on area rugs or interior design hardware, check out the selection of coupons on Save My Penny to get the most for your money!