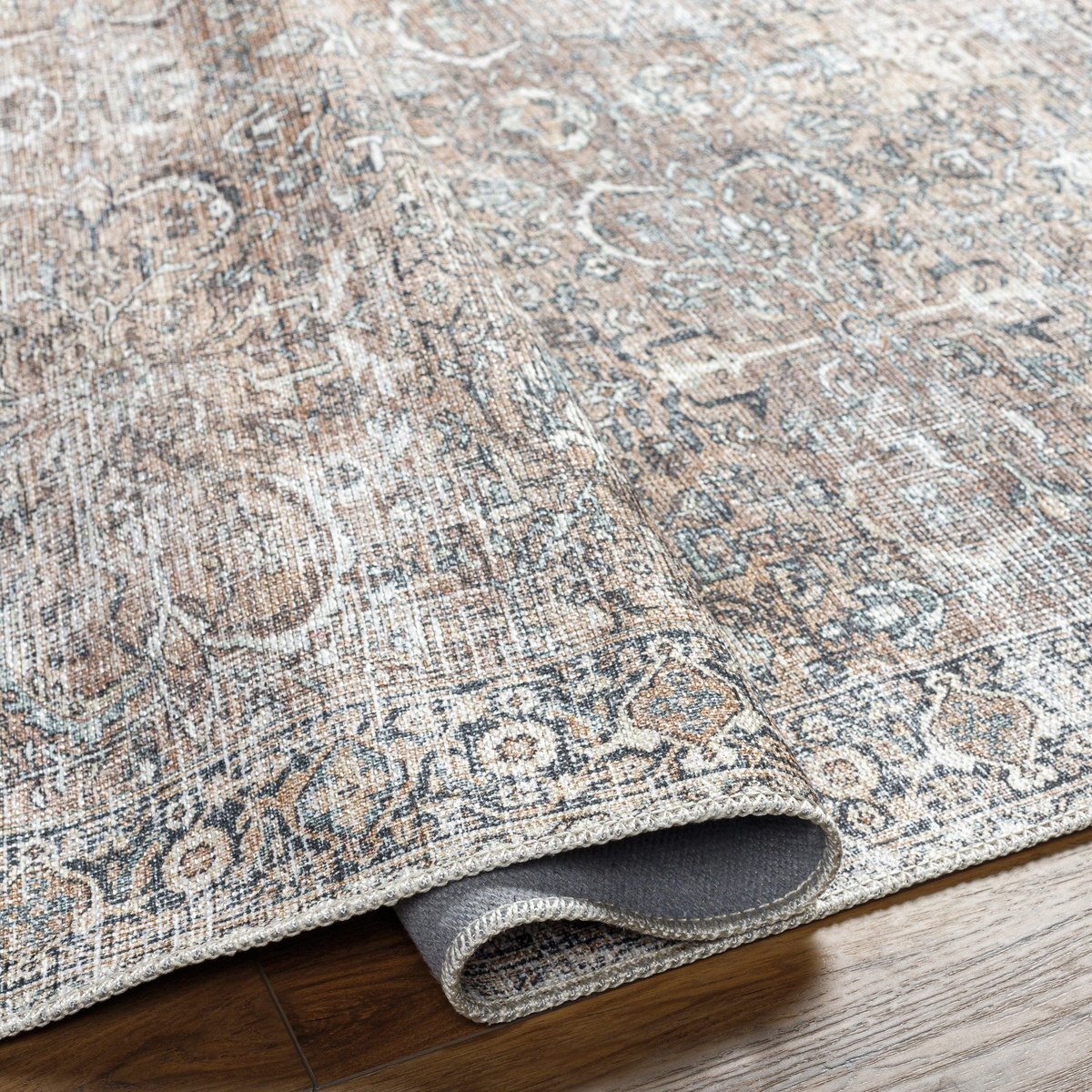 How Machine Washable Rugs Make Life Easier?
A perfect rug might be difficult to find, but it should be easy to clean. The improvements in the rug technology, manufacturing, and materials mean that you won't have to sacrifice style over functionality, thanks to the machine washable rug.
A machine washable rug can become a convenient accessory for the high-traffic areas of your home. These eco-friendly rug models are stylish, durable, and can be tossed in the washing machine at any instance of soiling or wear.
This article will discuss various ways a machine washable rug can make your home life and décor easier and more efficient.
Machine Washable Rug
Remember, not every washable rug is machine washable – this is an important distinction to consider while choosing the best rug for your kitchen. Every washing machine has limits, and it is always best not to exceed them for convenience. Let's look at these beauties first;   
IRIS MACHINE WASHABLE AREA RUG
KEMER MACHINE WASHABLE AREA RUG IN MULTI
Kitchen Rug
Super area rugs offer a machine washable rug collection perfect for kitchen use. These eclectic eco-friendly rug designs offer a distinct character and style to any kitchen, and the best part is not having to worry about stains and spills. All of this is possible with the beautiful machine washable area rugs. The kitchens are high-traffic areas where messes and spills are inevitable. The kitchen spaces you might want to fill with a rug are generally small, making it possible for these rugs to easily fit in the washing machines.
Machine washable rugs are perfect for the space under the breakfast table. Not only are these attractive, but they also double-duty protect your floors from food spills, and chair leg scratches. When you buy a machine washable rug for your kitchen – you can easily toss them in the machine after a big family breakfast or during spring cleaning.
Pet-Friendly Rugs
Chaotic pets and rugs can become a tricky combo; however, these pet-friendly rugs are designed to guard against stains of all kinds – which also include kid-related messes.
Whether you have a pet, the kids' friendly rugs are always a smart choice considering the constant food spillage from their high chairs and booster seats. The pet-friendly rugs are equally important when dealing with a pet who coughs up hairballs and sometimes loses their lunch in various areas around the house.
Outdoor Eco-Friendly Rug
Eco-Friendly rug for the outdoors is normally made out of durable and sturdy materials that can withstand the harsher outdoor elements and conditions. These rugs are machine washable, and you can also take on them with a pressure hose.
Front Porch Outdoor Rug
A rug that is perfect for your front porch – there is no reason why it won't work in the mudroom inside or the entryways. In fact, some of the outdoor rugs are a perfect choice also for indoor use. The sturdy material used in the outdoor rugs is perfect for handling wet shoes and those muddy boots. And when it is time to clean them, a quick toss in the washing machine will do the trick.
Remember to use a rug pad underneath if you plan to use an outdoor rug inside the house – as some outdoor rugs are made of hard materials which might become slippery on indoor flooring.
General Care for Machine Washable Rugs
The machine washable area rugs are generally eco-friendly and do not require much intensive care. The rugs only need a machine wash once in a while are you can continue to enjoy them rugs for years to come.
Are you looking for a modern/contemporary area rug – look at this beauty:
Evolution Contemporary Area Rug in Blue/ Grey
What kind of rugs are machine washable?
You can find many rugs that are machine washable – it all depends on the materials used and the rug's weave. There are plenty of material options for area and pet-friendly rugs that are machine washable;
Cotton – cotton is one of the few natural rug fibers that can be machine washable, making it a top choice.
Olefin
Polyester
Nylon
Viscose
Polypropylene, etc.
What else? Air Drying!
Air Drying Washable Rugs
Air drying is advisable for machine washable rugs – as materials used in machine wash rugs might not be safe to put in the dryer. It is advised to read the label tags of rugs thoroughly and follow the care and wash instructions accordingly.
Note: most synthetic materials are not suitable for dryers as they can be damaged by high heat. Also, polyester and cotton are the fastest air drying materials and can fair well after repeated washing machine cycles.
Can I throw rugs in the washing machine?
Check what materials are used to weave your rugs – if your rug is made from synthetic or cotton fibers, you can throw them in the washing machine and bath towels without a second thought. Ensure to wash them in cold water using the gentle cycle, and do not overdo the washing part as the rubber/wax backing won't hold up to weekly trips of the washing machine.
How do I know if my rugs are machine washable?
You can easily figure it out by reading the care label thoroughly!
Read the care label at the back of your area rugs if it says the rug is a dry clean only; then the colors may run in the wash. If it is mentioned to be machine washable, go for it. Most of the throw rugs end up doing well in washing machines. And when it comes to super area rugs, our rugs are perfect for cleaning in washing machines.
Please take advantage of our amazing machine washable area rugs sale 2022!