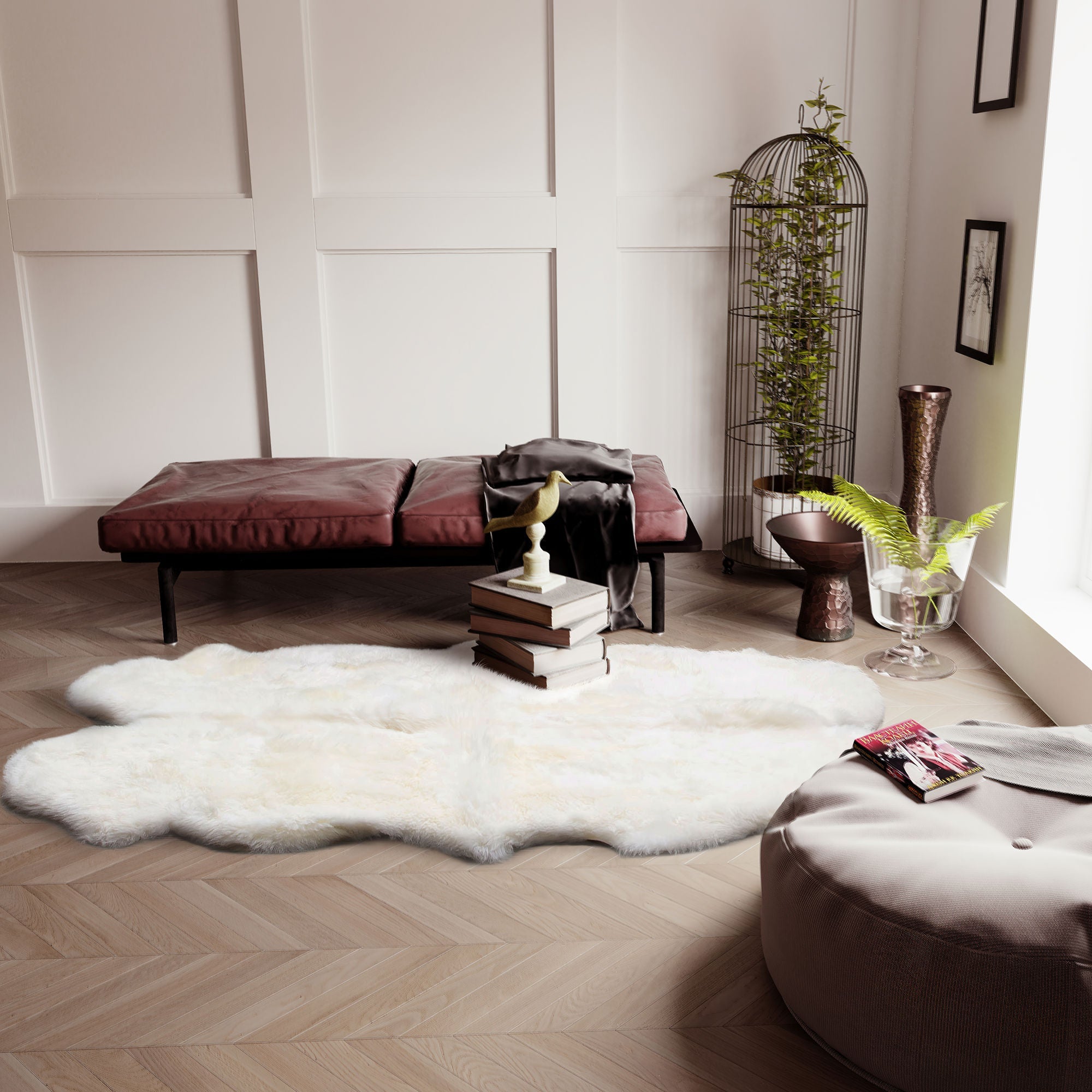 Natural Sheepskin Rug Shearling Fur Pelt - Ethically Sourced
All Natural
Super Soft
Save
Sale price

$ 59.95
Regular price
(/)

Ships in 1 day(s)

Handmade in New Zealand

100% Sheepskin Fur

2.5 inch thick.

90-Day Warranty
Organic, handwoven premium sheepskin rugs are so much more than a simple floor covering or superficial decorative piece. These high-end products introduce a palpable new atmosphere of vitality and intrigue, or vastly enhance an existing decor. With the addition of scientifically proven health benefits, these materials have been sought out by fashion adept individuals for centuries!

More Details

LONG-LASTING - These throw rugs feature ultra-thick pile for ultimate comfort. The soft materials of these rugs are easy to clean, cozy on your feet as you walk, and make a perfect complement to your home, as they are cool in the summer and warm in the winter. This rug is guaranteed to be long-lasting and won't shed or deteriorate like other rugs of this kind and will look new for years to come.
DURABLE MATERIALS - These living room rugs are made with ethically sourced, all-natural materials, making the rug more resistant to regular wear and tear. The rugs are never over-treated, so they retain their natural softness. While the pile fibers receive minimal amounts of treatment, the suede backing of this carpet is specially treated so that the durability of the rug is not compromised.
VERSATILE PLACEMENT - These plush area throw rugs are ideal for any room in the house, including living rooms, bedrooms, home office spaces, or the kitchen. This fluffy rug can also be used in open spaces and hallways for soft, comfortable floor coverage that is With its large coverage capacity, this rug is great for aesthetic decoration or comfort no matter where you choose to put it.
LARGE COVERAGE AREA RUG - The Genuine Australian Sheepskin Single Pelt Rug comes in a convenient size to accommodate different spaces and areas in your home. These luxurious rugs are great as runners for hallways and they also provide excellent coverage for more open areas. They can even be used in convalescent sick beds to combat bed sores or for babies for soft comfort during play or naptime.
REAL ANIMAL SKIN RUG- These rugs are a perfect addition to any home. The Super Area Rugs Genuine Australian Sheepskin Rug, Single Pelt Rugs are made with natural materials as opposed to faux fur, and are dyed in a variety of vibrant colors, so there is something to suit everyone's personal style. These gorgeous rugs work well as accent pieces for any room and work to tie your decor together.
Call us : 516-877-8066

Rug experts are standing by Mon-Fri 9am to 5pm EST.

Email Us : Customer Support

We offer email support around the clock.
You can return any of our rugs within 30-days of receipt.
Nearly all of our items ship within 2-3 business days. Some braided rugs may take 4-5 business days as they are made on demand. Once shipped, a Fedex / UPS tracking number will be emailed to you.

At this time, we can only ship to the contiguous United States.

We have warehouse locations in New York, Georgia, and Rhode Island.
Natural Sheepskin Rug Shearling Fur Pelt - Ethically Sourced
Sale price

$ 59.95
Regular price
Choose options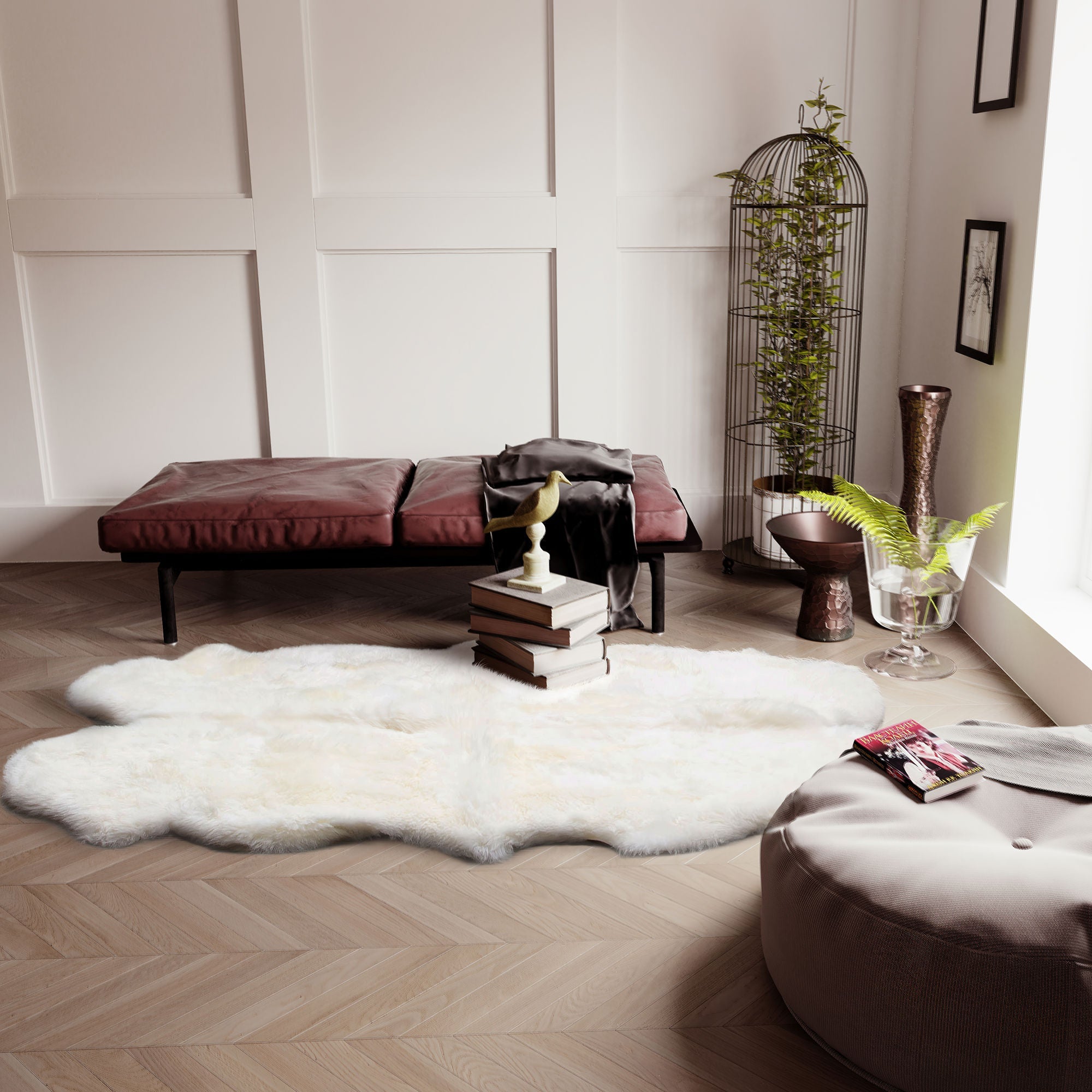 single sheepskin, silver
the product was a good as advertised. It fit nicely over my motorcylcle seat, being a full single pelt, and shipped and arrived quickly
Good for price
Good for price. Size,color, backing great. Not as soft and full as pictures look. It is used to sit on. Would purchase again from company. I would spend more for a softer thicker pelt.
beautiful product!
gorgeous rug delivered promptly
Awesome product, especially in Maine in the winter
Very please, any good deals let me know ok?
I love it !!!
Super soft, great quality for the money !! Will definitely purchase again from this store and tell my friends !!!
Featured collection
Customers Also Bought